From 23 to 25 May 2013, Remembrance of Auschwitz and the Auschwitz Foundation organised the Conference 'The forced labourers of death: Sonderkommandos and Arbeitsjuden' at the International Press Center – Residence Palace & the Royal Library of Belgium, Brussels.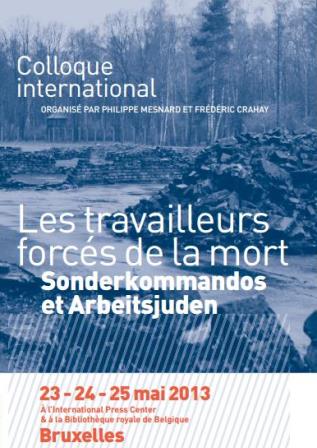 Sonderkommando: noun (German, Sonder, special and Kommando, unit).
HIST. Unit of prisoners (mostly Jews) who were forced by the Nazis to participate in the extermination process, without necessarily perform themself the murdering part.
Now that the crimes, committed by the Wehrmacht, have been recognized for some part thanks to the large travelling exhibition dedicated to these facts between 1995 and the early years 2000, now that the scale of the extermination in the East has reached unprecedented visibility thanks to the research on the "Holocaust by bullets" in the years 2000, now that Auschwitz has been visited over 1.3 million times last year, the historical and memorial recognition of the Sonderkommando and Arbeitsjuden (the closest witnesses of the "Holocaust by gas") is still more difficult to achieve. Are the gassings only posted as background information? Are the (mandatory) actors of the most advanced mass murder in modern history still personae non gratae of history and memory?


The Sonderkommando of Auschwitz were the forced labourers and direct witnesses of the gassing of the European Jews, Roma and Sinti, the deportees labeled as useless and of many Soviet soldiers. They were in the center of the Nazi extermination process, which had reached its highest level of technicality.
However, their stories, written or oral testimonies, despite the recent publications, recognized no real place in the memory of the genocide of the Jews. They were for a long time banned from the Jewish memory and depicted as devils by the deportees themselves. Following Primo Levi, some historians or philosophers classified them in the gray area, often reinterpreted in a negative way. The presence of the Arbeitsjuden in the other extermination centres became even more neglected.
This symposium aims is twofold. First goal is to make a balance of the Sonderkommando and Arbeitsjuden on an historical and memorial level. Then, to discuss the memory of the Sonderkommando in the broadest sense, their appearance in the testimony of the surviving deportees, in literature, theater and film.