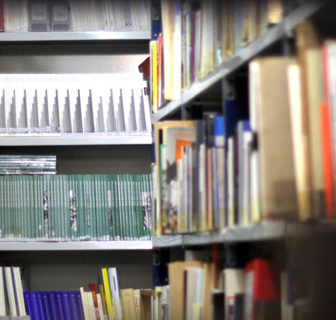 The Library

The Auschwitz Foundation makes a multilingual library with over 13,000 books available to the general public. The books and periodicals relate to the study of the Second World War (particularly in Belgium, France and the Netherlands), Fascism, National Socialism and the Third Reich (history, movements, regimes, institutions, society, economy, ideologies, etc.) as well as to all dimensions of Fascist and Nazi criminality (political repression, racial persecutions, medical experiments, war crimes, genocidal politics, etc.). The genocides of the Jews and Roma perpetrated by the Nazis are widely represented.

We possess extensive documentation on extermination centres and concentration camps.

Many books also deal with the history of anti-fascism, anti-Nazism and the Resistance in Europe.

More theoretical and methodological themes are also covered: the relationship between history and memory, the use of testimonies and oral history, the validity of comparative approaches, the great historiographical debates and controversies on the interpretation of totalitarian, fascist, Nazi and Stalinist phenomena, etc.

In addition, the Auschwitz Foundation library offers readers educational books, numerous testimonies and significant novels about the Shoah.

The collections also include works on racism, anti-Semitism, xenophobia and their resurgence, and on Holocaust denial today.

Other mass crimes and genocides, from the Armenians to Rwanda to the former Yugoslavia, etc., are also found among the works in our collection.

A computerised catalogue of books and periodicals is available to readers and can be consulted on site.

By appointment, the scientific staff of Remembrance of Auschwitz are available to guide readers in their research.

The library is open to the public from Monday to Friday from 9.30 a.m. to 12.30 a.m. and from 1.30 p.m. to 4.30 p.m., only after making an appointment with the library manager, Mr Verschueren, by e-mail.

Registration is free and compulsory. Consultations are free of charge. Some of the documentation can be borrowed for a fortnight. A4 photocopies can be produced for €0.05.

Access to the library and its documentation is subject to general reading regulations.