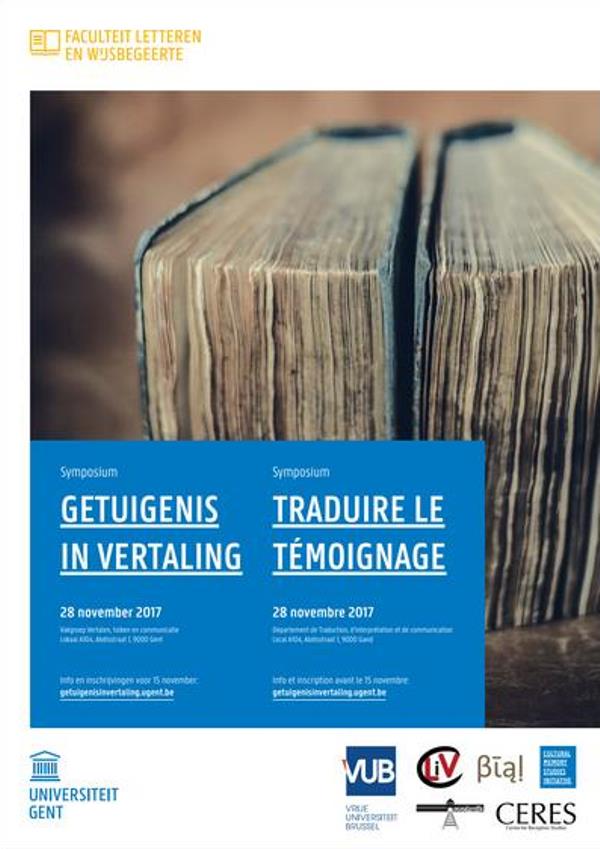 The research groups CLIV (Centrum voor Literatuur in Vertaling – UGent and VUB), CERES (Centre for Reception Studies – KU Leuven), BIAL (Brussels Institute for Applied Linguistics – VUB) and CMSI (Cultural Memory Studies Initiative – UGent) organised the symposium 'Translating Testimony' on 28 November 2017, in association with the Auschwitz Foundation. The event took place at the Department of Translation, Interpretation and Communication of Ghent University, and was held in Dutch, in French and in English.
The aim of this day was to question the importance, impact and ethical difficulty of translating literary and non-literary testimonies in the 20th and 21st centuries. The focus was on narratives of flight and expulsion in a context of war or ethnic cleansing and narratives of oppression in a post-colonial context.
The morning was devoted to a series of academic lectures in Dutch. A round table in French was organised in the afternoon, bringing together translators of testimonies about the Holocaust. David Bellos, professor at Princeton University and a translator himself, closed the day with a presentation in English: 'Testimony in Translation'.