International conference organised by the University of Paris-Sorbonne and EHESS in Paris, 23-24 May 2014.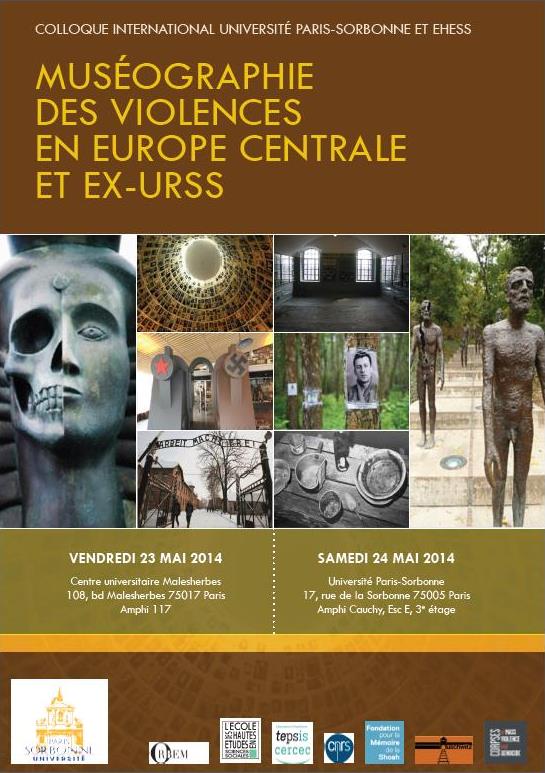 Since the fall of the Wall, the museum space devoted to the collective memory of mass violence - genocides, camps, deportations, famines, persecutions - in Central Europe and the former USSR has been radically reorganised. New political, social, cultural and scientific issues, access to hitherto inaccessible documents, and the circulation of ideas and knowledge across borders that are now open, have made it possible both to create new ways of documenting the traumatic past and to initiate reflection on a European, or even global, scale on this memory of the past.
Museums displaying the violence of the Soviet regime have thus been established: Gulag museums or museums of the occupation in certain former republics; new light has been shed on the violence suffered by the populations under Nazism. Many cities in Eastern Europe have set up museums documenting the aftermath of the two totalitarian regimes to which they, in turn, fell victim. Finally, for some years now, virtual museums have been created with the aim of building up an oral archive, a new and very different medium from photography, objects and texts.

The abundance of traces thus constituted raises numerous methodological and ethical questions as to the relevance and possibility of representing violence and reconstructing the past.

Moreover, museumification leaves room for the unspoken, for the void of memory, and for the distortion or falsification of historical data. The understanding of these totally new or reshaped spaces cannot be conceived without understanding the magnitude of the memorial stakes and the interplay of antagonistic experiences.
On the other hand, these spaces reveal an essential part of today's culture. Their architecture and scenography, considered in their interaction with the urban or natural landscape, both reflect and model the self-representation of Europeans. Between artistic or technical experimentation and the establishment of discourse, representations and ideologies, the museum is a paradoxical place of crystallisation, but also of memorial negotiations.
It should be noted that in the construction of memorial devices and representations of mass violence, the models of the memorialisation of the Holocaust, particularly in museums, since 1945 and to date, play an important role. Other memorial spaces are being created on the model of war museums as they were conceived in the USSR and Eastern Europe before 1989. Finally, some countries opt for an ethnic rather than a universal approach. It is this circulation of models through the dialogue or confrontation of memories that we propose to address during this conference.
Friday 23 May
Panel 1: WHAT TO EXHIBIT, HOW TO EXHIBIT, THE AUTHENTICITY OF THE TRACE
(moderator Delphine Bechtel)
Annette Becker (Paris Nanterre University): Une réflexion générale sur les musées des catastrophes [A general reflection on disaster museums]

Ivan Panikarov (Kolyma Museum, Yagodnoye, Eastern Siberia): L'histoire du Musée des répressions politiques de Iagodnoïe [The history of the Yagodnoye Museum of Political Repression]

Cédric Pernette (Paris-Sorbonne University): La mémoire du Goulag dans les musées régionaux de Russie [The memory of the Gulag in the regional museums of Russia]

Kathy Rousselet (Sciences Po, Paris): La répression stalinienne sur le site de Boutovo [Stalinist repression at the Boutovo site]

Panel 2: THE IMPACT OF DEMATERIALISATION, NEW NARRATIVES AND THE EMERGENCE OF THE VIRTUAL
(moderator Luba Jurgenson)
Nicolas Werth (IHTP, Paris): Découverte, mémorialisation et oubli des sites de massacres de la Grande Terreur, années 1940-2010 [Discovery, memorialisation and oblivion of the massacre sites of the Great Terror, 1940-2010]

Egle Rindzeviciute (Sciences Po, Paris): Secrets Disclosed and Exposed: Displaying the Communist Past in the Museums
Delphine Bechtel (Paris-Sorbonne University): Les musées juifs virtuels : du shtetl au cyberspace [Virtual Jewish museums: from Shtetl to cyberspace]

Irina Flige (Memorial Association, Saint Petersburg): Le Musée virtuel « Necropole de la Terreur » à Saint Petersbourg [The Virtual Museum 'Necropolis of Terror' in Saint Petersburg]

Catherine Gousseff (EHESS, CERCEC, Paris): Le site du musée virtuel Goulag memories [The website of the virtual museum 'Gulag memories']
Saturday 24 May
Panel 3: THE CENTRALITY OF THE HOLOCAUST, THE CIRCULATION OF MODELS AND THE GLOBALISATION OF MEMORY
(moderator Frédéric Crahay, Remembrance of Auschwitz)
Philippe Mesnard (Remembrance of Auschwitz, Brussels): Inventaire des concepts clés de la nouvelle muséographie patrimoniale [Inventory of key concepts in new heritage museography]

Luba Jurgenson (Paris-Sorbonne University): La représentation de l'effacement dans les dispositifs muséographiques [The representation of erasure in museographic devices]

Paul Bauer ((Charles University, Prague)): Muséaliser en Allemagne et en République tchèque l'héritage des Allemands expulsés [Museums in Germany and the Czech Republic to preserve the legacy of expelled Germans]

Per Rudling (Lund University, Sweden): LAF and OUN, representation of the nationalist narratives in the museums in Vilnius and Lviv

Panel 4: COMPETING MODELS: DOCUMENTING THE INTERTWINED VIOLENCE OF TOTALITARIANISMS
(moderator Philippe Mesnard)
Rob van der Laarse (University of Amsterdam): Terrorscapes in Postwar Europe: competing memories and narratives, Holocaust and occupation paradigms in a context of EU enlargements and crisis
Zsolt Horvath (ELTE, Budapest): Mémoire croisée de la Shoah et du communisme [Cross memory of the Holocaust and communism]

Iwona Kurz (University of Warsaw, Institute of Polish Culture): Historical narration and glamour style in the Warsaw Rising Museum (1944)